The Chamber offers various services to help fulfill the professional needs of the business community. For more information contact businessinfo@arubachamber.com
Personal business consultations - Free
During these sessions local and international entrepreneurs and investors or other interested parties, can obtain general information on doing business in Aruba and how to start a business. Click here for an appointment.
Course Independent Entrepreneur SMEs
The Chamber organizes a course for starting entrepreneurs and entrepreneurs who started their business recently. This course will be repeated every year. The course consists of 10 modules:
The entrepreneur and the market
Marketing concepts and the marketing mix
Strategic marketing and clients
Internet marketing, e-business, CRM & sales
Online marketing mix and internet sales
E-mail marketing & social media
Financial planning and financial administration
Tax administration and legislation
Business Plan, pricing, quotations and contracts
Official start, quality and service
Duration of the course: 20 weeks including an exam plus 2 coaching sessions.
For more information, please send an email to: businessinfo@arubachamber.com or call: (+297) 582.1566 ext. 42/35/30/27.
Entrepreneur - Business Magazine Aruba - Free
The Chamber's Entrepreneur – Business Magazine is rich in information discussing all sorts of interesting news, interviews, articles and events. Since 2017 the magazine is available in a new dynamic, digital format. To view the digital version of the magazine, click here. The Entrepreneur – Business Magazine is also available in paper copy at the Chamber of Commerce.
Multi Media Library - Free
A wide range of information is at your disposal in the lobby of the Chamber free of charge. This information includes magazines, journals, newsletters, books, researches and catalogs.
Guidelines and Regulations of the Business Licensing Ordinance - Free
Planning to start a new business or to expand? Read the Chamber's guidelines and regulation on the issuing of the Business Licensing Ordinance. As the official advisor of the Minister of Economic Affairs, the Chamber is consulted in the business establishment license procedure. Click here to review the Chamber's guidelines (NL).
Changes in company data - Free
The Chamber regularly brings parties together based on the information provided in the Trade Registry. Especially companies abroad approach the Chamber looking to find potential business partners. Consequently you can miss out on interesting opportunities when your data is not correct or complete. Opportunities may include meeting foreign company representatives, invitations to lectures, workshops, expositions, trade missions etc. which may lead to new business opportunities. According to article 13 of the Trade Registry Ordinance (NL) , it is mandatory to keep your company data up to date at the Chamber. Business can make unlimited modifications and adaptations for free. These can be processed through your "My Chamber" account.
Please click here to learn more about the required documents for each amendment.
Informative lectures - Free or minimal charge
The Aruba Chamber provides lectures designed especially for entrepreneurs on a variety of relevant topics or on specific issue that affects entrepreneurs in one way or another.
Call our office (582.1566, ext. 30/27/42) for more information on our lectures or send an email to businessinfo@arubachamber.com.
Room rentals - Price will vary depending on room and hours
| | | | | |
| --- | --- | --- | --- | --- |
| Room rates* | 1 hr | 2 hrs | 4 hrs (½ day)  | 8 hrs (1 day) |
| Auditorium (max. 65 p.) | 135.00 | 245.00 | 400.00 | 550.00 |
| Meeting room (max. 14 p.) | 45.00 | 85.00 | 135.00 | 200.00 |
*Room rates in Afl. 
Room rental is also possible after office hours and during weekends. The Aruba Chamber will be happy to make a custom-made quotation for you. Contact businessinfo@arubachamber.com for more information.
Art Exhibition
In order to promote and stimulate local art and entrepreneurship in this sector, the Chamber yearly organizes an art exhibition, where we give a local artist the opportunity to exhibit his artwork in our reception area. The art will remain for 1 year on the wall in the reception area of the Chamber and after that we give the chance to another artist. For the exhibition we organize a 'launch evening' where we invite our customers, the press and other interested parties to engage with the artist, view and, if interested, purchase a piece of art during this evening. This usually takes place in the beginning of November of each year.
The artist must send a price list and business cards and people who are interested in buying a painting should contact the artist directly. Please pass by the Chamber from Monday to Friday between 8 a.m. and 4:30 p.m. to view the galleries of the current local artist. For more information and interest in exhibiting your art at the Chamber, please contact Business Information & Support at telephone: +297-5821566, ext. 27/30/42.
---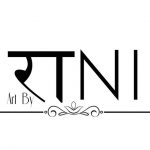 Born in the gorgeous mountain city of Shillong in North India, Rani had a creative flair from her earliest memories. Despite a desire to formally study art in her childhood, life presented obstacles every time Rani thought of enrolling in art classes.
Shortly after her 50th birthday, Rani realized that she had had enough of going along with the 'shoulds' and 'musts' of daily mundane life and decided to enroll along with her daughter in Stichting Mira Art Classes in Aruba and continued to paint at home every day. Any opportunity that she'd get to better her craft, Rani pursued it. Art in all its forms fascinates Rani. She has studied pyrography (wood burning), ceramics, water color art.
A driving force behind Rani's life is her daily habit of meditation that she has practiced for the last 24 years. She says that the outward manifestation of what she feels within is reflected in her art. Whenever she paints, she is in a state of thoughtless awareness and in that state she is able to achieve results on canvas and wood that are breath taking.
Rani has continued to develop her own style. She calls this style "NIRA". Nira in Sanskrit means 'flowing like water'. When asked what made her develop this style, she says it best describes her flowing effortlessly in creating works of art.
Rani incorporates her Indian heritage in some of her paintings. Her deep awe for the mother and child balance of the world is reflected in her artwork.  She enjoys blending Indian and Western elements in her 'Nira' style as well. As a matter of fact, even her signature contains a balance of and Indian and western scripts.
One of Rani's greatest joys is inspiring others to follow their passions. After seeing her example, several friends have proceeded  to take time out of their daily chores to follow their artistic passions.
You can see her artworks on social media at:
Facebook @ artzbyrani
Instagram @ art_by.rani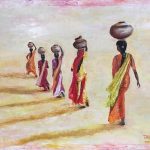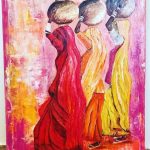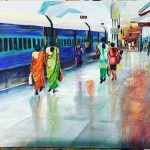 Scroll To Top