Financial Relief (FASE, MKB, Loonsubsidie, Qredits)
Introduccion di Subsidio di Salario
Relaciona cu introduccion di un sudsidio riba salario di parti di Gobierno di Aruba, SVb a keda encarga pa suministra e informacion di e programa aki na doñonan di trabao inscribi na SVb.
Pa tal motibo ta recomenda doñonan di trabao pa verifica e e-mail adres riba MiSVb:
https://misvb.svbaruba.org
Si no ta registra ainda riba MiSVb bo por ricibi ayudo via Helpdesk di MiSVb: helpdesk@svbaruba.org of WhatsApp +2975272740 (dialuna pa diabierna 8:00 AM – 6:00 PM).
Pa mas informacion tuma contacto cu nos via info@svbaruba.org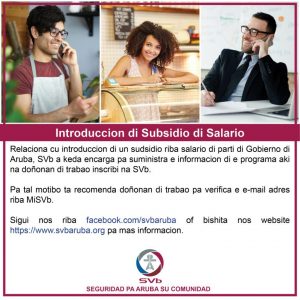 Plan Alivio Fiscal 2020
Fiscal Relief and Stimulus Package 2020
Fiscaal Noodplan 2020
Sosten Financiero y subsidio di sueldo
Government Proclamations
AB 2020 no. 62 
Ministerio di Turismo, Salubridad Publico y Deporte
FAQ COVID-19
C1. Is the Chamber open? How can we contact the Chamber?
C2. My business has no income. What should I do?
C3. Which companies can operate and which companies should be closed?
C4. When can the non-essential companies resume business operations?
C5. Do you still offer events and course lessons?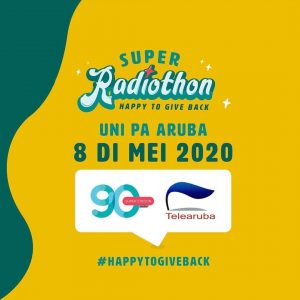 Scroll To Top
Events
Upcoming Events

September 10 @ 9:00 am

-

12:00 pm