46-2019 – Curso organisa door di KvK pa stimula comercio: Edicion 6 di curso Empresario Independiente chikito/mediano a cuminsa
Oranjestad – Dialuna 21 di october a start sali e di seis edicion di Empresario Independiente,  e curso di Camara di Comercio y Industria di Aruba (KvK) enfocando riba e empresario cu kier expande su conocemento comercial y start un negoshi. Esnan cu ta participa lo haya informacion cu lo yuda desaroya nan conocemento pa cuminsa of maneha nan propio negoshi.
Sra. Sonja Velthuizen, directora di KvK, a duna tur e cursistanan un bonbini y a elabora riba kico por spera nan pa e siguiente lunanan durante e curso Empresario Independiente. Sr. Dave Martinus tambe a hiba palabra y despues a ranca sali cu e prome les pa e cursistanan.
Pa e siguiente lunanan e curso Empresario Independiente ta brinda e cursista diferente materia pa haya conocemento den tur aspecto cu ta di importancia pa maneho di un negoshi. KvK a diseña e curso di tal forma cu durante e periodo di 8 luna total e cursista lo amplia su conocemento riba tereno di mercadeo, legislacion, finanzas y administracion, impuesto, management, tecnica di benta, servicio na cliente, business planning y otro puntonan relevante pa maneha un negoshi na Aruba. E ta un curso interactivo y cada cursista lo por di e forma aki ta miho prepara pa su idea of negoshi y haci esaki uno realistico y sostenibel. Tur docente durante e curso ta expertonan y profesionalnan cu conocemento amplio den nan ramo. Un certified business coach lo duna coaching personal na e cursistanan na final di e curso pa asina nan por start nan negoshi.
E curso a desaroya di tal forma cu e programa actual ta cuminsa cu compila un business plan. E cursistanan lo haya tur guia necesario pa bay skirbi nan business plan. Na final di e curso lo mester duna un presentacion di e business plan aki y tur participante mester haci un examen teoretico pa por gradua exitosamente. E business plan lo wordo presenta na un hurado cu ta inclui un representante di Qredits Aruba y di e forma aki e cursista cu gradua por bin na remarke pa financiamento di su negoshi via Qredits.
E graduadonan lo ricibi nan certificado, cu lo tin balor comparabel cu e "middenstands-diploma" na Hulanda. KvK lo inclui den su registro di negoshi cu e cursista a termina e curso Empresario Independiente cu exito y esaki lo refleha tambe den e informacion di su empresa den e registro di KvK. E curso ta na Papiamento y lo dura 8 luna, pues te cu juni 2020. Dos biaha pa siman lo tin les di 2 ora y mei den e auditorio di KvK y durante e curso e participantenan lo haya e guia y informacion necesario.
Tur cu ta desea haya mas informacion por tuma contacto cu departamento di Business Information & Support (BIS) na businessinfo@arubachamber.com of yama na 582-1566 ext. 30/35. E ta un oportunidad unico pa haci bo soño di tin bo mes un negoshi un realidad. KvK ta desea esnan cu lo participa na e curso hopi exito cu nan futuro planificacion di nan negoshi.
Aruba, 23 di october 2019
Camara di Comercio y Industria (KvK)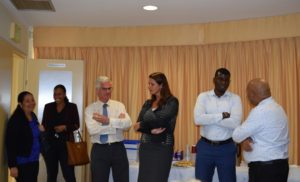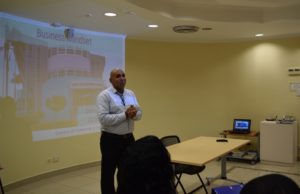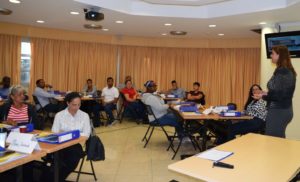 Scroll To Top