31-2019 – Cursistanan cu exitosamente a completa curso empresario independiente chikito/mediano 2018-2019 di KvK ta miho prepara y cla pa haci negoshi.
Oranjestad – Cu hopi orguyo Camara di Comercio y Industria Aruba (KvK) ta otorga certificado na e cursistanan cu a termina e curso Empresario Independiente Chikito/Mediano. Esaki ta di 5 aña cu e curso ta wordo duna y e biaha aki a trece algun adaptacion pa asina brinda un curiculo mas completo y alinea cu situacion real. E curso cu a inicia na oktober aña pasa no tabata uno facil pero cu sigur ta brinda e herment necesario na e (futuro) empresario cu kier cuminsa su propio negoshi. E curiculo diseña door di Camara di Comercio y Industria Aruba (KvK) ta special pa e formalisacion di un empresa chikito/mediano (SMEs).
E 13 cursistanan a sigui pa 8 luna intensivo diferente les seminal riba diferente materia consistiendo di un cantidad amplio di topico. A amplia conocemento di e cursista riba marketing, legislacion, finanzas y administracion, impuesto, recurso humano y varios otro aspecto di negoshi manera diseña y presenta un business plan. Hunto cu esaki nan a haya e oportunidad pa promove nan mes pa haya un financiamento via Qredits.
KvK kier logra via e curso pa informa y educa e (futuro) empresario pa ta miho prepara na momento di establece y maneha su negoshi. Pa e cursistanan e periodo di curso no tabata algo facil pero un periodo extenso cu a rekeri hopi dedicacion y trabou duro pa por pasa nan examen cu exito. Algun persona tin un negoshi caba y otro tin nan trabou diario pues e estudio y preparacion pa cada les den oranan liber sigur ta un sacrificio.
Ta remarcabel con anima e cursistanan ta y alabes cu e curso ta brinda nan e oportunidad di cera amistad nobo via cua nan ta amplia tambe nan network comercial.
E curso ta uno basta intensivo y largo, y e ta exigi tempo di e cursistanan. E percentahe di presencia ta 80%. Sin cumpli cu esaki e ta bira dificil pa completa e curso cu exito. Esnan cu a logra a ricibi nan certificado pa completa e curso cu tin un balor comparabel cu un "middenstands-diploma" na Hulanda.
Entrega di certificado a tuma luga diahuebs, 4 di juli 2019 na KvK, sigui pa un celebracion ameno cu familiar y amistades. Director Ehecutivo, sra. Sonja Velthuizen, a felicita e cursistanan y a bisa algun palabra di estimulo pa sigui dilanti y cu KvK lo ta semper na nan disponibilidad. Presidente di KvK, sr. Kawish Misier tambe a duna un discurso y a elogia cada un pa e esfuerso y logro. Sr. Dave Martinus, como docente y coach di e curso aki, tambe a hiba palabra na esnan presente. Despues di esaki sra. Sonja Velthuizen y sr. Kawish Misier a otorga e certificado na e cursistanan.
Hunto cu e balor cu e certificado tin pa e persona y su negoshi, e logro aki di e cursista lo wordo registra na Camara di Comercio na momento cu e negoshi wordo inscribi.
Palabranan di gratitud ta bay na tur esnan cu a coopera na realisa e curso aki: Dave Martinus, Leo Maduro, Charisse Hoen-Daly, Bruce Harms, Guido Picus, Dick Rikkengaa, Herbert Diaz, Rothmar Coenraad, Frits Israel, Frank Snijders y e team di BDO, Geosaine Laclé, Michael Thodé, Mario Croes, Boy Ecury, Roberto Lejuez y Olivier de Jong.
Preparacionnan ta andando caba pa e siguiente edicion di e curso. Esnan interesa por cuminsa registra di awo caba pa e curso nobo aki. Pa participa ta pidi pa manda bo carta di motivacion y bo CV pa businessinfo@arubachamber.com. E siguiente curso di Empresario Independiente lo start riba 21 di october 2019 y lo culmina durante luna di juni 2020.
KvK ta spera di por sigui brinda e apoyo y educacion necesario pa un y tur cu kier cuminsa cu su empresa por ta bon prepara pa esaki. Tur esnan cu kier participa den e siguiente curso, of haya mas informacion por tuma contacto cu sra. Sue-Ellen Farro-de Freitas Sousa na businessinfo@arubachamber.com of yama na 5821566 ext. 30/27/42.
Aruba, 5 di juli 2019
Camara di Comercio y Industria (KvK)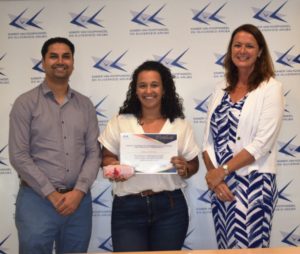 Scroll To Top
Events
Upcoming Events

March 5 @ 9:00 am

-

12:00 pm

March 10 @ 12:00 pm

-

2:00 pm

September 10 @ 9:00 am

-

12:00 pm