30-2019 – Un sala yen pa scucha con pa start un propio negoshi na Aruba: KvK cu exitoso evento "Business Plaza – Get Started!"
Oranjestad – Camara di Comercio y Industria Aruba (KvK) a organisa diasabra 29 di juni ultimo un biaha mas e evento pa tur hende cu kier of cu recien a cuminsa un negoshi: "Business Plaza – Get Started!" E bishitante a haya e oportunidad pa expande nan conocemento riba diferente topico cu ta importante na e momento cu bo tin e ambicion di cuminsa un negoshi of ta den e proceso y tin pregunta specifico riba rekisitonan y maneho di bo negoshi. For di 9'or di mainta e bishitantenan por a atende diferente presentacion cu topiconan hopi interesante. KvK kier gradici Aruba Bank N.V. cu tabata e main sponsor di e evento Business Plaza – Get Started!
Presidente di KvK, sr. Kawish Misier a dirigi su mes na esnan presente cu un discurso di bonbini. Siguientemente sra. Gina Habibe di Aruba Bank a splica tocante e servicionan nobo di Aruba Bank y con esaki ta facilita e comerciante. Sra. Sonja Velthuizen, sr. Dave Martinus y sr. Oliver Vieira a splica durante nan presentacion kico por spera durante e – curso Empresario Independiente cu ta un curso comparable cu un middenstands diploma na Hulanda. Sr. Karel Arends di Arends Consultancy a elabora riba "Coaching & mentoring   your business" via deporte como un ehempel. Sr. Juan Carlos Espinal di AGW Tours & Services a duna un presentacion hopi dinamico den cua e la conta di su experiencia como un emprendedor. Sra. Lysandra Boekhoudt-Werleman di Werleman & Associates Consultants a presenta e topico "Administration for starters" y a elabora dicon esaki semper ta un punto cardinal pa cuminsa un negoshi. Despues di un pauze cortico Departamento di Impuesto a duna informacion basico di impuesto pa comerciante. Finalmente en conexion cu e paso cu KvK a tuma pa digitalisa e registro di negoshi, sra. Tatiana Britten-Dubero y sra. Bachera Erasmus-Marin di KvK a duna un sesion practico encuanto con pa traha cu e plataforma digital nobo di KvK. Desde april 2019 e sistema a bay 'live' y KvK a ricibi hopi reaccion positivo riba e facilidad cu esaki ta ofrece na e clientenan.
Durante eventonan di Business Plaza, KvK ta ofrece e oportunidad pa tur bishitante haya un consulta dibiaha y diferente bishitante a probecha pa haci un consulta liber cerca e Business Advisors di KvK y tambe por a registra nan negoshi. Sra. Sonja Velthuizen, Directora di KvK y sr. Dave Martinus di ActionCoach a duna informacion detaya di e programa interesante pa e proximo curso di Empresario Independiente Chikito/Mediano pa cual ya varios persona interesa a registra. Departamento di Asunto Economico tambe tabata presente pa brinda informacion na publico encuanto permisonan. Representante di Universidad di Aruba a duna informacion encuanto e programa educativo pa empresarionan.
Durante pauze esnan presente a haya oportunidad pa intercambia ideanan y elabora riba topiconan pa fortifica lasonan comercial den un setting ameno combina cu bebida y aperitivos.
Proximo edicion di Business Plaza lo tuma luga na januari 2020 y ta e edicion 'Step Forward!' dedica na empresarionan existente cu kier expande nan negoshi. Pa mas informacion tocante Business Plaza, curso Empresario Independiente Chikito/Mediano y otro servicio di KvK, por tuma contacto na 582-1566, ext.27/30/42 of manda un e-mail pa: businessinfo@arubachamber.com.
Aruba, 2 di juli 2019
Camara di Comercio y Industria (KvK)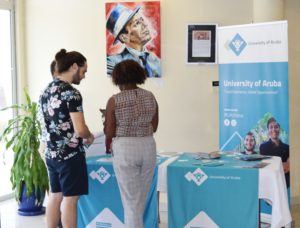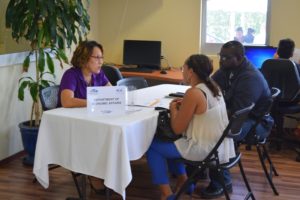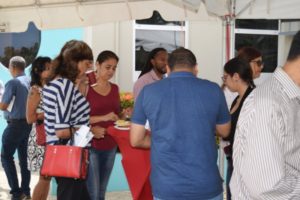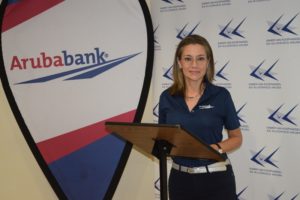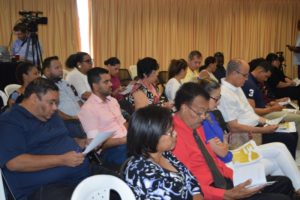 Scroll To Top