10-2018 – KvK tumando pasonan pa formalisa un incubador comercial
Oranjestad – Despues di e re cu representantenan di sector publico y sector priva na juni ultimo encuanto e formalisacion di un incubador, Camara di Comercio y Industria di Aruba (KvK) a tene recientemente un encuesta dirigi na e empresario y esnan cu interes pa cuminsa un negoshi.
E encuesta hunto cu un sesion di focus group a wordo organisa door di KvK den colaboracion cu Universidad di Aruba. E encuesta tin como meta pa haya un bista di kico ta e pensamento cu ta reina den seno empresarial encuanto e concepto di un incubador comercial. Na prome instante mester duna un definicion na e concepto di un incubador: un incubador comercial (business incubator) por lo general ta un edificio of facilidad estableci pa duna empuhe na negoshinan hoben y chikito durante nan prome lunanan of añanan. Normalmente un incubador ta brinda espacio pa negoshi na prijs rasonabel, comparti oficina y e servicionan den un edificio, guia den maneha negoshi disponibel, apoyo den marketing, y tin biaha acceso na un forma of otro di financiamento.
A saca varios informacion interesante di e encuesta, no solamente di un incubador pero tambe informacion en general encuanto cuminsa un negoshi. Pa lanta un negoshi via un incubador, e sector cu mas a resalta ta sector di servicio y consulta. Akinan 43% e respondientenan a indica nan interes pa un negoshi. Sigui pa e sector di hospitalidad/F&B cu 24% y marketing cu 19%. Mester remarca cu e respondientenan por a indica mas di un sector. Tin bon indicacion pa interes den un incubador pero mester tene na cuenta cierto rekisitonan. 66% di e respondientenan a indica cu guia di haci negoshi ta importante pa nan. Tambe a resalta e importancia di guia y conseho di contabilidad (59%) y guia legal (58%). Pa loke ta e facilidadnan di e edificio 61% a indica cu ta importante pa por huur na un prijs mas abou cu loke por haya riba mercado. Servicio di internet y Wi-Fi ta importante pa 60% di e respondientenan, mientras 56% di e grupo ta vocifera cu un localidad adecua tambe importante. 73% ta opina cu mester tin servico administrativo y 44% ta indica cu mester tin servicio di ICT y IT helpdesk disponibel cu ta inclui na e incubador.
Encuanto cuminsa un negoshi via un incubador a resulta cu 31% lo casi sigur considera esaki mientras cu 62% ta dudando. Si a caso nan participa 74% lo kier haci esaki den forma di un incubador intersectorial. Pa loke ta inversion den un incubador, 48% ta dispuesto di hinca AWG 1000 pa luna y 28% ta considera cu esaki mester ta gratis. 16% a indica di lo inverti loke ta rekeri pa participa den e incubador. Di esnan cu a participa na e encuesta 42% ta hende muhe y 58% hende homber. Representacion den edad ta basta bon parti caminda 27% ta entre 21-30 aña, 28% 31-40 aña, 25% 41-50 aña y 20% ta riba 51 aña di edad.
Por medio di e encuesta tambe a extende invitacion na esnan cu lo kier participa na un sesion di focus group pa sigui elabora mas den detaye riba e topico aki. Durante e sesion di focus group a sali na cla diferente punto cu ta importante pa un incubador y su meta. E diversidad y calidad di miembronan di e incubador den combinacion cu e rekisitonan cu esaki mester tin manera exclusividad, colaboracion y bon consehero disponibel ta importante pa e exito di e incubador. Tambe tin cu tene na cuenta reglanan y e flexibilidad cu e incubador por brinda na e empresario. E maneho di e incubador ta hopi esencial pa su exito y su continuidad. Tambe e gastonan envolvi, seguridad di esnan den e edificio y loke ta inclui den un pakete bou un solo dak.
KvK ta hopi satisfecho cu e participacion ricibi y cu e informacion aki lo por sigui dal paso den e bon direccion cu e realisacion di un incubador comercial na Aruba.
Aruba, 6 di maart 2018
Camara di Comercio y Industria (KvK)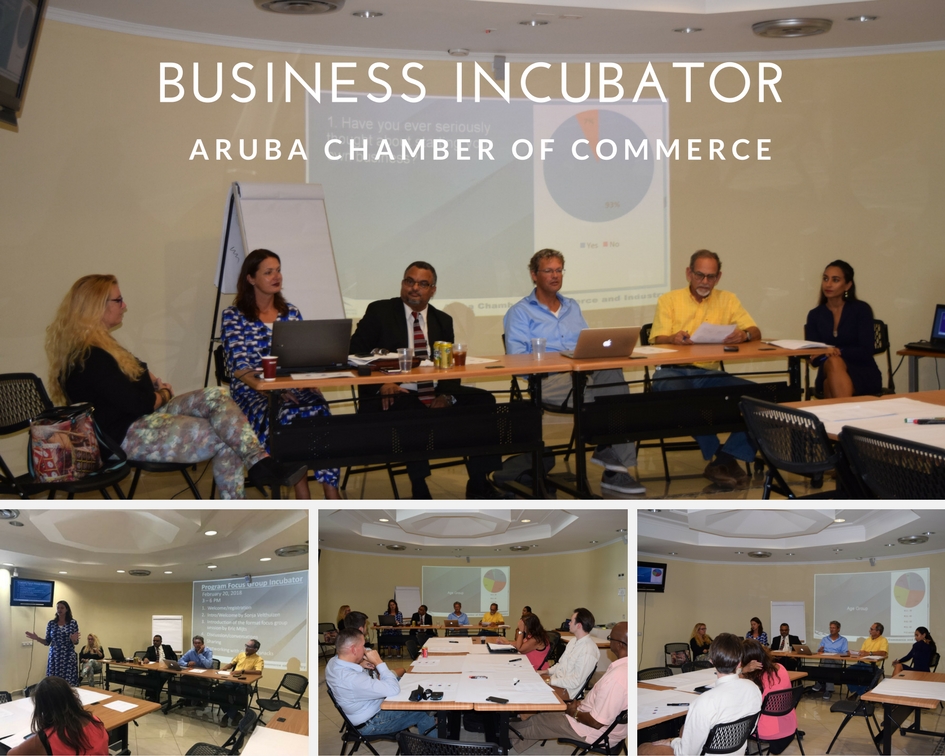 Scroll To Top